Wild Ginger's roots are firmly planted in the cultures that inspire us, but what did it really take to make it happen in Seattle? Believing in the dream, perseverance, determination, and lots of sleepless nights.
In 1984 Rick and Ann Yoder used this guide book to travel and eat their way through five countries in Southeast Asia; satay in Malaysia, seven element soup in Burma, curries in Thailand, roti in Singapore, and dim sum in Hong Kong. Every day they would look at each other and say, "wouldn't it be amazing if we could get this food in Seattle"?
Five years later, in 1989, they opened the very first Wild Ginger on Western Avenue underneath Pike Place Market in Seattle. The dishes drew inspiration from the Southeast Asian cuisines they fell in love with.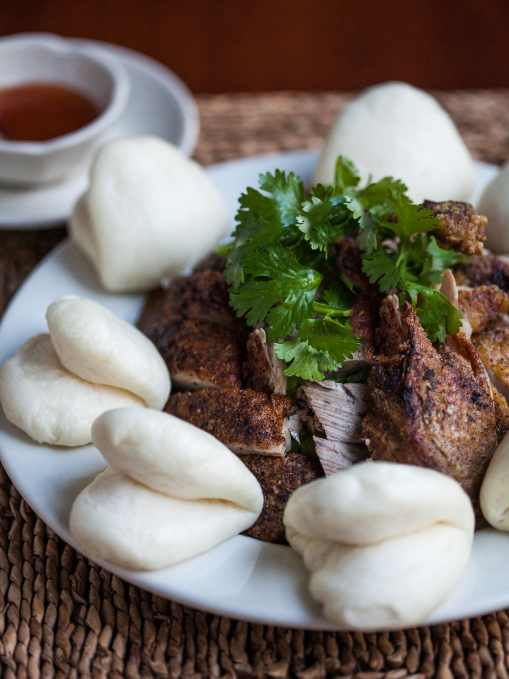 Critics from The New York Times, Bon Appetit, The Seattle Times, and more lauded the venture as a huge success and this pillar of Asian dining quickly became one of the most popular restaurants in the northwest and a true Seattle original.
In 1996, the Yoders had their eyes on a rundown building on the corner of 3rd and Union. They had a dream of moving Wild Ginger to this new, larger space as well as opening a live music venue in the basement where a vaudeville theatre had been previously.
Come 2000, this dream became a reality. The new Wild Ginger downtown Seattle was described as an old favorite in a new suit. And in 2003 The Triple Door, now a nationally-acclaimed music and performance venue, opened it's doors.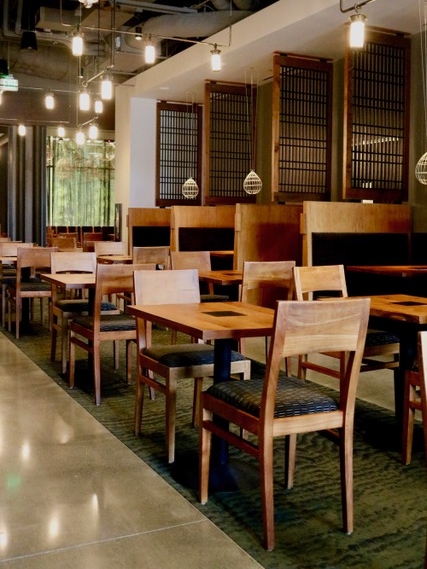 When Wild Ginger's 20th anniversary rolled around in 2009, it was celebrated with a second location - this time in Bellevue, WA. Eventually Wild Ginger Bellevue made the move from The Bravern to Lincoln Square South.
Wild Ginger's third location was revealed to the public in August of 2018. Just a mile from the flagship downtown, Wild Ginger McKenzie (named after the luxury apartment building it calls home) planted roots in Seattle's bustling South Lake Union Neighborhood.
Nancy Leson, Seattle Times Restaurant Critic
"Smart service, smart wine list, smarting with excitement, it's got new-Seattle yin and old-Seattle yang. And you've got to love that."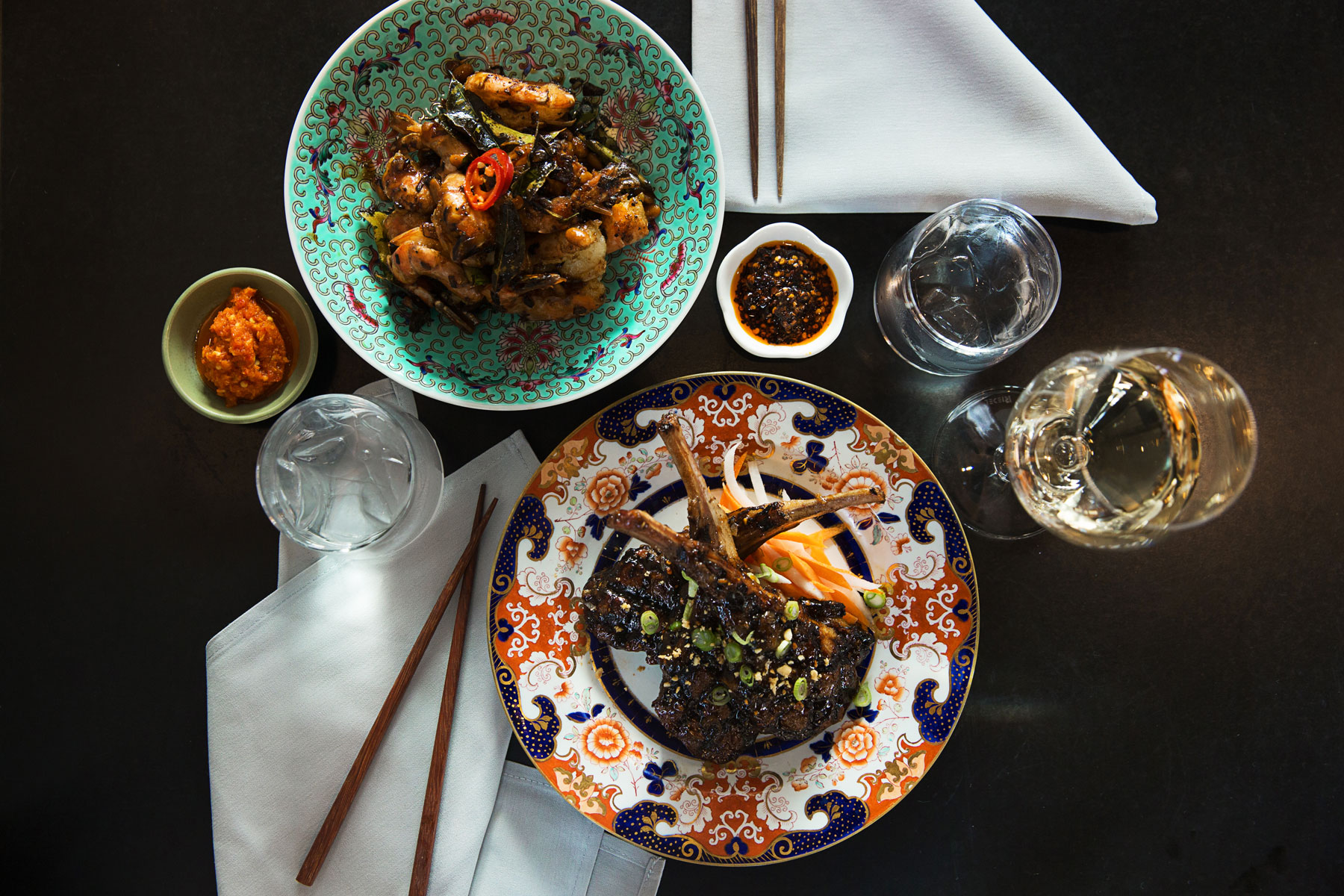 Where are you located?
Our Seattle | Downtown restaurant is located at 1401 3rd Ave, Seattle, WA 98101 (on the corner of 3rd and Union, across the street from Benaroya Hall).
Our Seattle | McKenzie restaurant is located at 2202B 8th Ave, Seattle, WA 98121 (on the corner of 8th and Blanchard in the Regrade neighborhood of South Lake Union).
Our Bellevue restaurant is located at 508 Bellevue Way NE, Bellevue WA 98004 (next door to the Bellevue Arts Museum).
What type of food do you serve?
Authentic cuisines from China and Southeast Asia.
When did you open?
The original Wild Ginger location opened on Western Ave in Seattle on July 29th, 1989.
Who designed your restaurant interiors?
Our flagship location was designed by NBBJ. Wild Ginger McKenzie and Wild Ginger Bellevue were designed by SKB Architects.
Who are your Chefs?
Kevin Chiang | Executive Chef, Downtown Seattle
Dushan De Silva | Executive Chef, McKenzie Seattle Gihan Ernest | Executive Chef, Bellevue
What hours are you open?
Seattle - Downtown
M–Th 11:30a–10p
F-Sat 11:30a-11p Su 4p–9p
Happy Hour: M-F 3p-6p + Sat 11:30am-4pm (beverages only)
Seattle - McKenzie
M–F 11a–10p
Sa 3p–10p
Su 3p–9p
Happy Hour: Daily 3p-6p + M-Sa 9p-10p
Bellevue
M–Th 11a–10p
F-Sa 11a–11p
Su 11a–9p
Happy Hour: Daily 3p-6p + M-Sa 9pm-close
How much should I expect to spend?
Appetizers: $3 - 18
Entrees: $9 - 32
Desserts: $5 - 8
Wine: $25 and up
Which credit cards do you accept?
Visa, Mastercard, American Express, Discover, Diners Club.
Where can I find parking?
Seattle | Downtown: The closest parking garage is on 2nd and Union. There is also a valet service on Union Street in the evenings from Thursday-Sunday.
Seattle | McKenzie: There is a parking garage entrance in the alley off Blanchard Street between 8th and Westlake. The elevator from the parking levels exits onto Westlake Ave., so head around the corner to the right to find Wild Ginger.
Bellevue: We offer 3-hour validated self parking in The Lincoln Square South Garage. Entrance is located on NE 4th Street between Bellevue Way NE and 106th Ave NE.
How do I make reservation?
Seattle - Downtown
Book online or call 206.623.4450
Seattle - McKenzie
Book online or call 206.707.0396
Bellevue
Book online or call 425.495.8889
Reservations are always recommended, but not required. We welcome walk-ins. If you join us without a reservation and there is a wait list, the maitre'd will give you an estimate of how long your wait will be. We have comfortable lounges available to start your evening. Alternatively, the full menu is available in the lounge or at the Downtown or McKenzie satay bar.
Do you book large groups?
We can accommodate large parties in the main dining rooms. In addition we have beautiful private rooms available for groups of up to 64 people. Click here for complete private dining information.
For parties of 7 or more, a large party gratuity of 20% will be added to your bill. 100% of this is paid directly to the service staff of our guests.